BlogsBunny is a content sharing platform that encourages bloggers and media outlets to gain user engagement from high quality articles. Like Alice in Wonderland you can be led down a rabbit hole and experience a series of adventures through its content diversity.
Every user account is different and can be customized to your personal preference to ensure you only see content that is relevant to you. Videos can be shared on other social media platforms to let others know of the interesting things you found while disappearing down the rabbit hole.
Content creators don't have to be worried about being shadow banned for their articles, based on their point of view. Blogbunny boasts a unique and innovative algorithm that has the ability to rate an article based on grammar/spell checker, plagiarism checker, website reputation and the plus/minus checker. So there's no telling which article will rank at the top, but it's guaranteed to be great.
Blogbunny promotes fairness, new content creators have the same chance of getting to the top, as old seasoned creators. This way Content creators get an opportunity and new readers will always get to see top quality articles.
Watch the video below for a quick overview!
How does it work?
Registering for an account is easy, no explicit information is needed. You would only need to enter basic information and then verify your account. After the email address has been verified at Blogsbunny you will be asked to choose the topics you are interested in. Your personalized feed would then be populated with only topics that interests you. You will not see anything unrelated to your interests.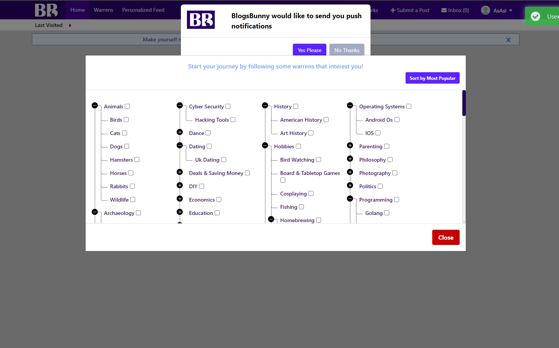 You can now begin your journey down the rabbit hole. The homepage and Personalized Feed refreshes twice a day with new content.
If you click on Warrens it show the different categories and topics that are available.  One of the Warrens I chose to subscribe to was the World news Warren in order to stay up date with what is happening all over the world.
You can even become a pioneer and create your own Warren.
After clicking on a Warren you will see a list of available Burrows (Sub-categories). In the image below the Business Warren was chosen and it has the SEO Burrow.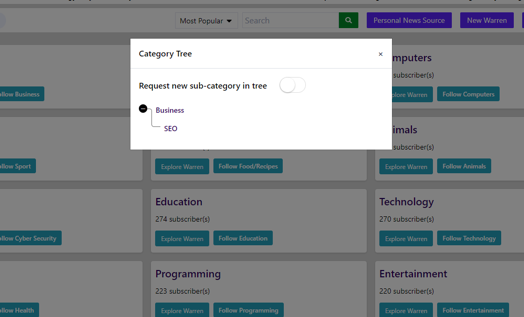 Once SEO is selected you will see all the available Rabbit Holes for that Burrow
Users can interact with the content in a variety of ways.
The pin icon allows users to save an article at the top of a burrow.
The overall score bar shows the rating of the uploaded content based on: grammar/spell checker, plagiarism checker, website reputation and the plus/minus checker.

The Personalized Feed tab will show all the topics for the Warrens that were chosen just after registration.
Creating a post:
Blogsbunny encourages content creators to promote their own articles. It aims to fill the gap between what some of the popular social media/content sharing platforms fail to provide. Essentially giving back power to the content creator.
BlogsBunny.com lets you share three types of content: web links, pictures, and texts. So, from the links of your favorite article and blog posts to sharing images of your favorite quotes or memes, you can post here whatever you want.
The only thing you need to take care of is to post the content to the relevant Warren category. Anything posted to irrelevant Warrens won't be approved by the moderators.
The option to submit a Post is always to the top write of the page. You can create your own post in the form of a Text, Link or Image. Once the post has been made, the websites algorithm automatically kicks in and starts to evaluate the score of the post.
Conclusion:
Overall I think the idea behind BlogsBunny is a good one. More and more news or information sources are biased and the narrative is being manipulated. BlogsBunny has the potential to fill a gap for much needed factual information.